Additional Material and Methodology (Work in Progress)


Official Archive of Fire Incidents at the migrant camp of Moria and its surrounding area, between 01/01/2015 and 11/04/2019. This data, provided through formal request to the Fire Department of Lesvos, corresponds to the occurrences in which the intervention of the fire service was required, and regards an area that extends around one kilometre from the camp. The Fire Service is required to intervene in any fire breakout -- no matter its extent -- during the so-called anti-fire season in Greece (1 May-31 October), but not necessarily outside this timerange. Thus, it is possible that the actual times that fire has broken out in the area – in perhaps more containable forms – exceed the reported occasions.
Geolocated footage within the Google Earth Pro platform, using screenshot of video identified during the open-source investigation in social media. Footage: still from video,
Lesvos News
, 22 September, 2018.



Videos illustrating placement of footage within a digital model of the site, using camera calibration and motion tracking to track the movement of the camera. The footage used are enlisted with their respective media identification numbers, and can be found in the Media section of this platform.



Top: Sentinel-2A L1C, Band Combination: R(B10), G(B08), B(B01), 25 September 2018, three days after a fire breakout on the southwestern side of the camp. The satellite image is superimposed on Google Earth Terrain.
Right:
Timelapse 15-08-2016 - 24-09-2019, Sentinel-2A L1C, Band Combination: R(B10), G(B08), B(B01). With darker color, one can identify the burn scars on the vegetation across the years. Timelapse through
Sentinel-hub EO Browser.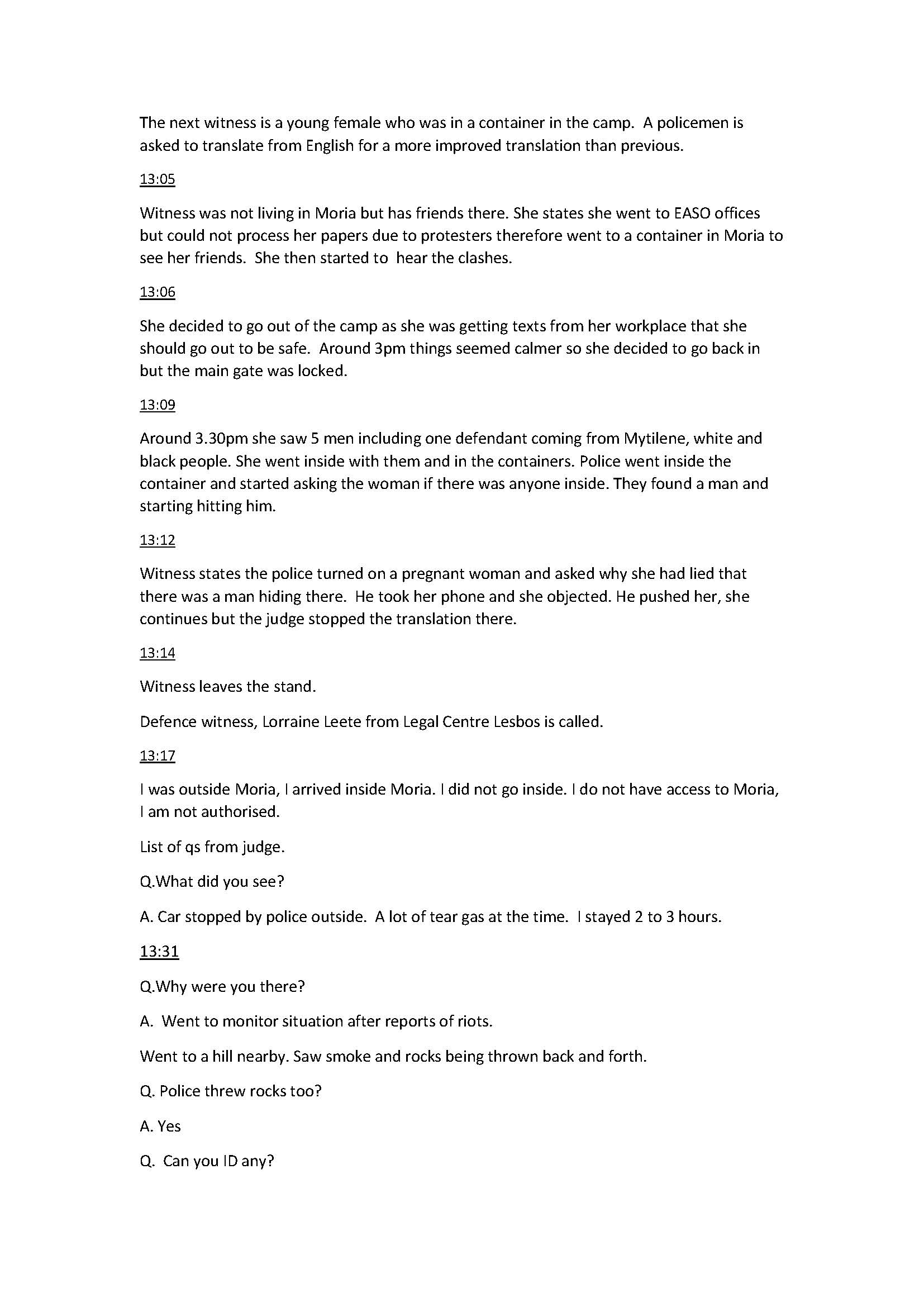 Written documents that report the proceedings of the trial of 'Moria 35', 35 migrants who were prosecuted collectively with four identical charges, including arson, after being arrested arbitrary during police raids following a non-violent protest in the camp. Highlighted are the excerpts that are related to fire, where there was no substantiated evidence, prosecution statements were contradictory and ambiguous, and several violations took place regarding the rights of the migrants to fair trial and judicial provisions.The document was created by transcribing the twitter thread by Legal Center Lesbos, who were live-reporting and documenting the trial and its encompassing abuses. Legal Centre Lesvos (@lesboslegal) "We are tweeting live from Chios for the trial of the #moria35 #freethemoria35",
Twitter thread
, April 20, 2018.